BE A PART OF "THE D"
Allee Willis'
Love Song To – and Theme Song For – DETROIT
If you're a Detroiter,
I want YOU to join me in creating and documenting
the biggest and most soulful recorded & filmed sing-along
the world has ever heard!
I'm a GRAMMY®, Emmy, Tony and Webby award-winning and nominated songwriter, performer, visual and multi-media artist, director, collector, social artist, and party thrower. Along with Andrae Alexander I've created the "unofficial/official" theme song for my beloved hometown, Detroit.
"The D" is a love song to the Motor City, a joyous salute to the heart and soul of Detroit's citizens, landmarks, and culture. It's very much in the spirit of my very first hit, "September" by Earth, Wind & Fire.

My team and I are coming to Detroit in September, 2013 to record "The D" and film accompanying videos and documentary footage at dozens of locations all over the city.

I'm inviting ALL Detroiters-literally anyone willing and able-to participate and show your love by singing along, playing, clapping, snapping your fingers, doing "The D" dance, and documenting the process throughout Detroit as the record is made.

TELL EVERYONE! "The D" is looking for choirs, renowned singers, budding singers, marching bands, renowned musicians, filmmakers, recording studios, businesses, schools, people on the street, stadium crowds, and ANYONE affiliated with the city to contribute whatever talents, skills, and resources they have to make the song a truly "made in Detroit" effort.

Unlike other songs or films made as of late about the city, "The D" is literally CREATED BY the city. It's also just the first step in what I hope will be a continuing series of songs, parties and happenings, the kind of multi-media extravaganzas that I'm known for and that have led to my reputation as one of the best party throwers in the world!

Sign up here to receive news on when and where the recording and filming events will happen, and how you can participate, volunteer, and share yo skills any way you can.

Currently, me and "The D" team are assembling a larger production team and meeting with potential sponsors, media allies, and non-profit partners. "The D" will be supported by a multimedia public relations campaign targeting print, broadcast, radio, and Internet outlets nationally, in Michigan, and in Southern California.

To participate or for more information please email: WeSingTheD@alleewillis.com

For more info on past "Allee Willis Marches On Detroit" events go here: http://www.alleewillis.com/detroit/
Allee Willis launched "Allee Willis Marches on Detroit"– events dedicated to the city— in 2011 with her high school marching band's performance of her greatest hits at Detroit's Fox Theatre while the musical she co-wrote, the Oprah Winfrey produced The Color Purple, played there. It benefited her alma mater, Mumford High, the school made famous in Beverly Hills Cop, for which Willis won a Best Soundtrack GRAMMY. "Marching on Detroit" part two took place in 2012 with Willis' "Last Call Before the Wrecking Ball" greatest hits concert at Mumford, shortly before the school was demolished. She has been honored with the Spirit of Detroit Award and a Testimonial Resolution from the City Council for her work giving back to her hometown.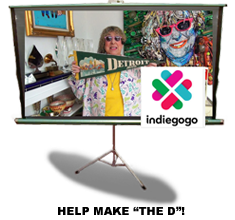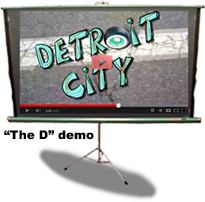 "The D" Lyrics


Detroit Press

My Detroit Blog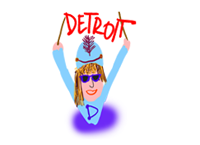 How Much Does Allee Love Detroit?

SIGN UP FOR The D EMAILS
alerting you to updates, events, etc.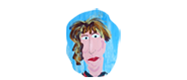 AlleeWillis.com