Allee Willis' Kitsch O' The Day – BRILLIANT Jr. High Performance of "September"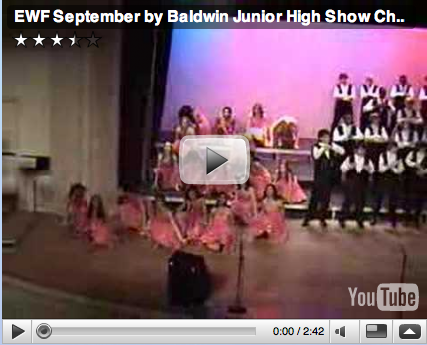 The competition for my favorite version of September, which I co-wrote for Earth Wind & Fire, not to mention the dozens of other songs of mine whose copyrights are infringed upon daily on YouTube, is fierce. But this junior high school performance rises to the top – the choreography, harmonies, costumes, cheap and glorious sound and grand finale swirling together to make the perfect Kitsch kocktail. Anyone who knows me knows I've seen very few of the original artists who've recorded my songs in concert yet I'll drive hundreds of miles to hear someone doing them in some unrecognizable lifeform way. I only wish I could have been at this school for this performance!
A personal shoutout to YouTube who, despite making me take down videos of my own songs which I co-own the copyright to, allows proliferation of hundreds of versions of these songs without demanding those infringers take their videos down – i.e. they protect the record companies and big corps and screw the creators. Although this double standard shows a distinct lack of ethical or moral conscience, were YouTube not turning a blind eye to satisfy their business model I wouldn't have the pleasure of experiencing my songs as I love to hear them most – destroyed.
Categories:
bad art
,
Dance
,
Earth Wind & Fire
,
Kitsch
,
Kitsch O' The Day
,
Music
,
September
,
Songwriting
Tags: Allee Willis, Kitsch, Kitsch O' The Day, September Earth Wind & Fire
| | | |
| --- | --- | --- |
| Share this page. | | Subscribe to the blog. |
| | | |
Protected under a Creative Commons license
4 Comments