Allee Willis' Kitsch O' The Day – Sammy Davis Jr. Real Dollar Bill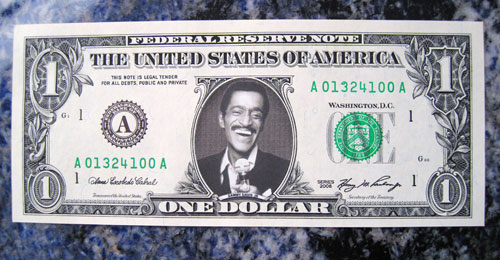 In 1978, I sat next to the Candy Man on his 30′ monogrammed Gucci couch. It was the first huge movie star's home I'd ever been in and there we were eating ribs together, Sammy dabbing sauce off the locking G's and my chin. He was wild about my song that had just come out, EWF's "September", but I was still penniless as my royalties were so delayed. Every time I look at this dollar bill I remember the thrill of the ribs/Gucci/ Sammy moment and how excited I was that life was looking up.
This is a REAL mint one dollar bill, legal and negotiable tender, made via a process permitted by the Treasury Department since 1967. I would never spend it as it's worth a zillion to me.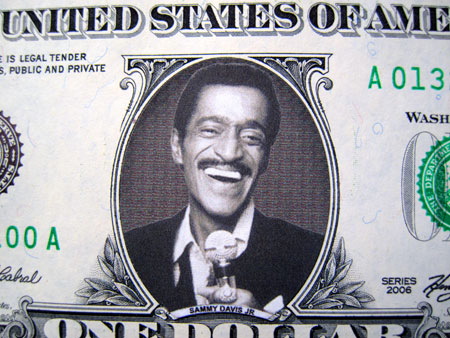 Categories:
Afro
,
Celebrity
,
Kitsch
,
Kitsch O' The Day
,
Memorabilia
,
Music
Tags: Allee Willis, Kitsch, Kitsch O' The Day, Sammy Davis Jr.
| | | |
| --- | --- | --- |
| Share this page. | | Subscribe to the blog. |
| | | |
Protected under a Creative Commons license
5 Comments