Allee Willis' Kitsch O' The Day – Candy Corn Refrigerator Magnet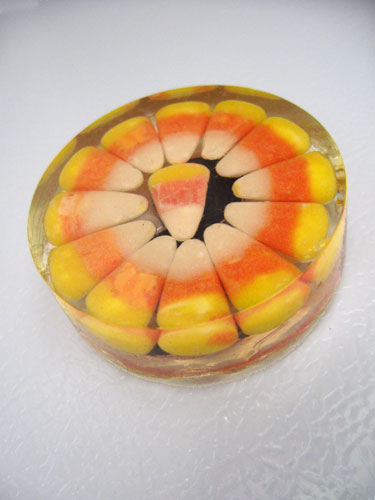 I went to a lot of parties this weekend and the candy corn, the official candy of the season, was laid out in style. A big mound of it at one affair, tasteful scatterings of it around a jello mold at another – yes, many of my friends have the same kitschy eating habits as I do! I've had this refrigerator magnet trapping my favorite candy in resin on my frig for about 20 years. I'm not the refrigerator magnet type but candy corn is so at the top of my list I decided to stick it on the freezer door in 1988 and and see what happens as things like sunlight and feather dusters hit it .
I thought it would crumble long before this but, in fact, it has aged gracefully. Its highly saturated, screaming loud Halloween orange has dimmed some but the street lines yellow still shines bright and the white tips have faded the same way teeth start to gray over the years. I can see the sugar or whatever the main substance of this foodstuff is start to coagulate but otherwise the corns look perfect in their Esther Williams synchronized swimming formation, preserved forever here in my kitschen.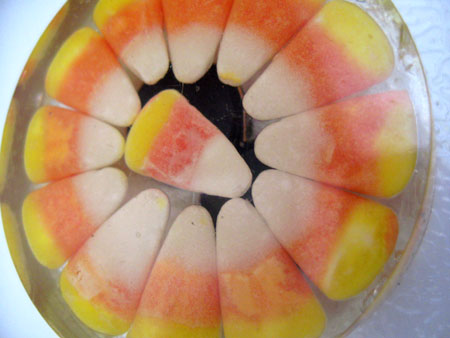 Categories:
Crafts
,
Food
,
Furniture and Housewares
,
Kitsch
,
Kitsch O' The Day
Tags: Allee Willis, candy corn magnet, Kitsch, Kitsch O' The Day
| | | |
| --- | --- | --- |
| Share this page. | | Subscribe to the blog. |
| | | |
Protected under a Creative Commons license
5 Comments