Allee Willis Kitsch O The Day – Madonna Inn Ashtray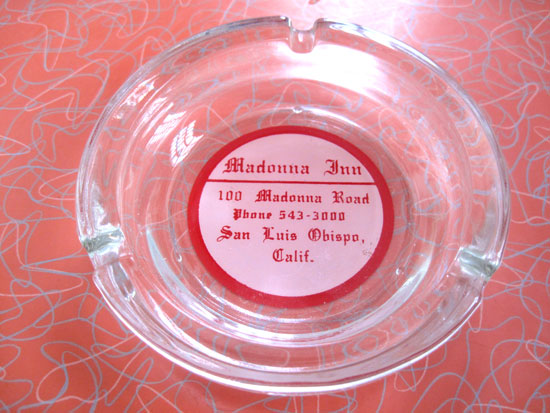 I don't have to tell any self-respecting Kitsch lover about the Parthenon of Kitsch, the Madonna Inn, in San Luis Obispo, California. Appearing like a mirage off the 101, its customized-to-the-brink-of-insanity rooms, pink, pink, pink dining room, not to mention the cheeseburgers and sprinkle cookies in the coffee shop attract me like a magnet whenever I drive up north. Besides, the bathrooms are nutty and always add that extra dimension to a rest stop. The place has such magic powers that any smoke rising from this ashtray is probably pink.
I love my bedroom but there's no doubt that using this ashtray in the Barrel Of Fun, Canary Cottage, Cave Man, Daisy Mae, Edelweiss, Jungle Rock, Matterhorn, Oriental Fantasy, Time Of Your Life, Wilhelm Tell or any of the other 110 rooms enhances the desired Kitsch effect. To see all of them go here.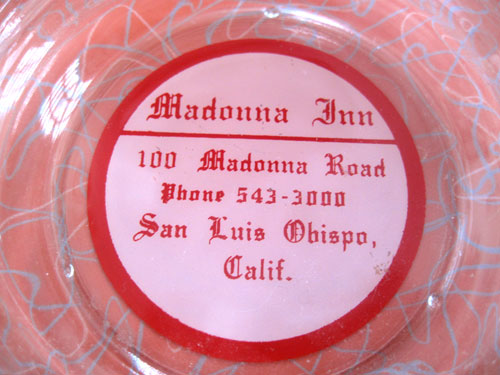 Categories:
Accessories
,
Architecture
,
Furniture and Housewares
,
Kitsch
,
Kitsch O' The Day
,
Travel
Tags: Allee Willis, Kitsch, Kitsch O' The Day, Madonna Inn ashtray
| | | |
| --- | --- | --- |
| Share this page. | | Subscribe to the blog. |
| | | |
Protected under a Creative Commons license
2 Comments