Allee Willis' Kitsch O' The Day – Whipped Cream Spa in Desert Hot Springs CA.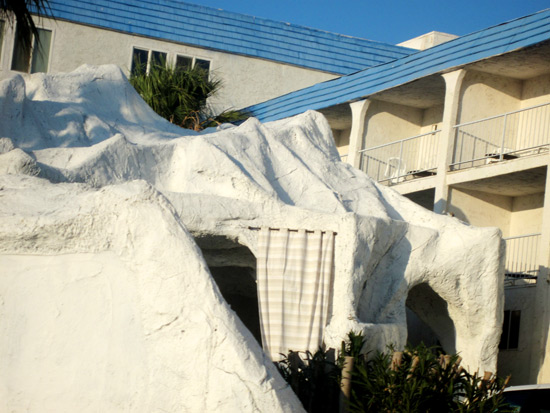 Rising like several healthy squirts of whipped cream on an otherwise dull sundae, the Sanctuary spa/resort/fantasy masterpiece of plaster workmanship on Palm Dr. in Desert Hot Springs, California almost caused me to have a car wreck when I first drove past it. Absolutely incongruous with anything else in the area, it still gets my vote as hot spot in town.
Despite the fact that the plaster is slathered on so thick that the mashed potato/sour cream/whipped cream exterior already shows cracks, I've long known that this 'heaped on' technique is an excellent way to cover up otherwise dowdy exteriors. Cottage cheese or fan brushed plaster or concrete do not count here. That's merely for people who have no taste. The cascading and mounding effect seen here at The Sanctuary is, rather, a fully realized artistic vision that scales to the peak of Mt. Kitschrest and never comes down for a landing.
I found these comments online: "… staff , restaurant, rooms and pool area is perfect" … "Rollaway bed mattress ($10 extra charge) was so old and uncomfortable" … "Everywhere we went the staff took time to wish us a good day" … "What a dirty, stinkin, filthy dive!" … "Best $70.00 ever spent…"… "on the first day we have no shampoo and when we ask the answer was "we are not received yet from supplier " ( who cares-i pay for room )."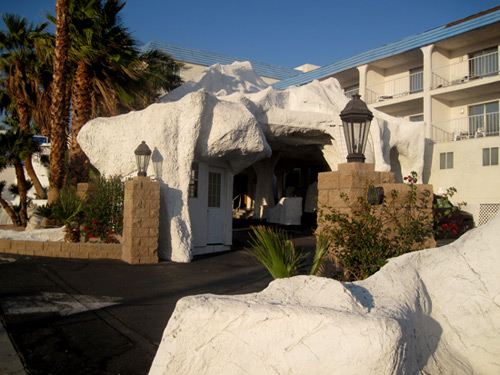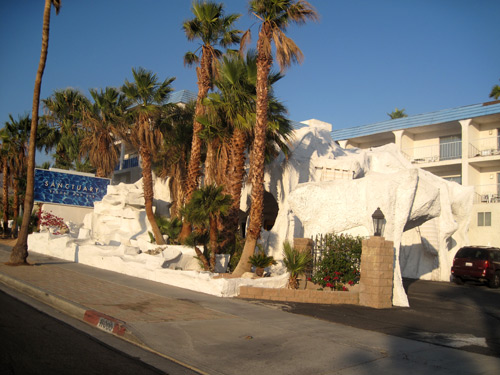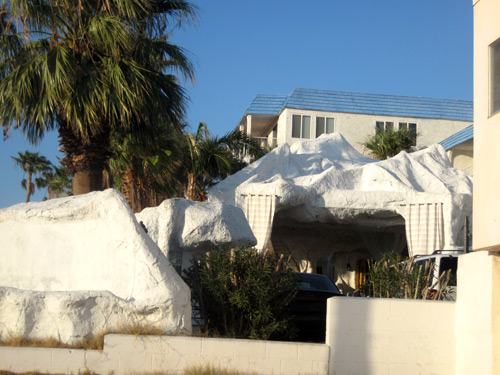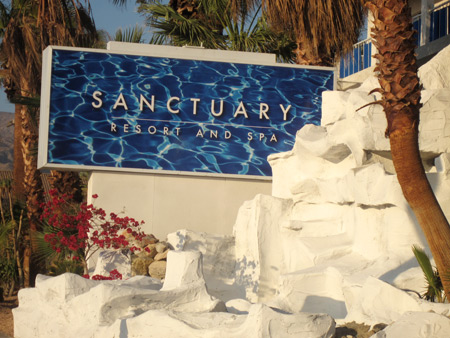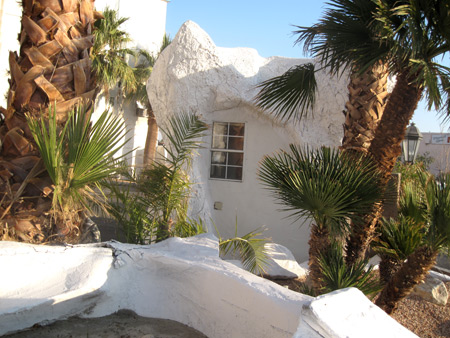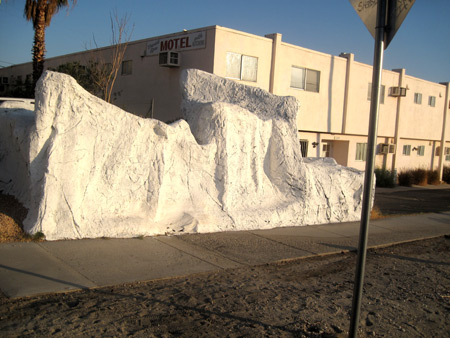 Categories:
Architecture
,
Crafts
,
Creativity
,
Kitsch
,
Kitsch O' The Day
,
Place
,
Self expression
,
Travel
Tags: Allee Willis, Desert Hot Springs, Kitsch, Kitsch O' The Day, Sanctuary Spa
| | | |
| --- | --- | --- |
| Share this page. | | Subscribe to the blog. |
| | | |
Protected under a Creative Commons license
3 Comments