Allee Willis' Kitsch O' The Day – Debbie Reynolds Dress Designer Kit Colorforms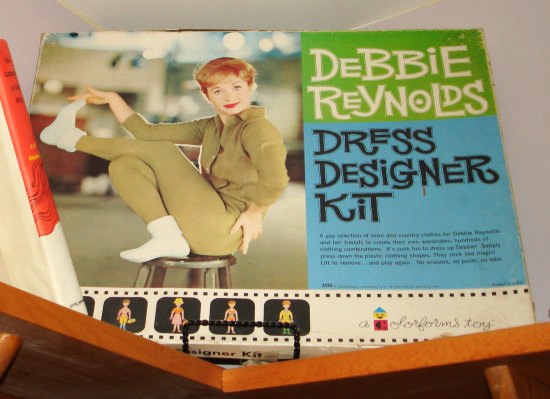 Why I love thee – 1) The fact that this is a Dress Designer Kit and Debbie's wearing pants? 2) The twisted organs pixie pose that 3) Debbie's striking in the middle of the street? 4) Her matching hair and lipstick? 5) The shoe/sock combo whatever-it-is on her feet? 6) The Technicolor hues on the box? 6) The perfect Atomic Age font? 7) The fact that it includes "a gay selection of town & country clothes"? I'm sure I don't have to tell you that the answer is all of the above!
This beautiful bit of Kitsch is the winner of the prestigious Classique d' Camembert award, the highest honor bestowed upon an object submitted to the Allee Willis Museum of Kitsch at awmok.com. I thank aKitschionado Slazz for her excellent and discerning taste.
Complete submission at http://www.alleewillis.com/awmok/kitschenette/2009/10/08/colorforms-debbie/
Categories:
Celebrity
,
Clothes
,
Creativity
,
Fashion
,
Games
,
Kitsch
,
Kitsch O' The Day
,
Toy
Tags: Allee Willis, Debbie Reynolds Colorforms, Kitsch, Kitsch O' The Day
| | | |
| --- | --- | --- |
| Share this page. | | Subscribe to the blog. |
| | | |
Protected under a Creative Commons license
One Comment