Allee Willis' Kitsch O' The Day – Jell-o Spoon Candy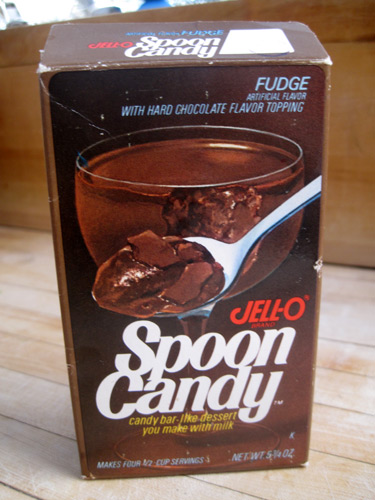 "The dessert that tastes like a candy bar" was a junk food lover's xtreme fantasy when it hit the shelves in 1972. Short-lived – it was gone by '73 – Jell-o Spoon Candy was a puddingish dessert with a topping you cracked through as you would the chocolate shell on a Dairy Queen. Spoon Candy, a kitschingly brilliant name especially when combined with the word "jello", came in a variety of combo flavors like peanut butter and chocolate, chocolate with chocolate, vanilla with chocolate, caramel with chocolate, I guess chocolate came on everything. The topping inhabited a separate package stuffed into the box that you cut and squeezed onto the pudding.
The official reason given for Jell-o Spoon Candy's demise was the rising cost of sugar but junk food lovers the world over still mourn its early demise and would have happily paid a few pennies more to get their fix.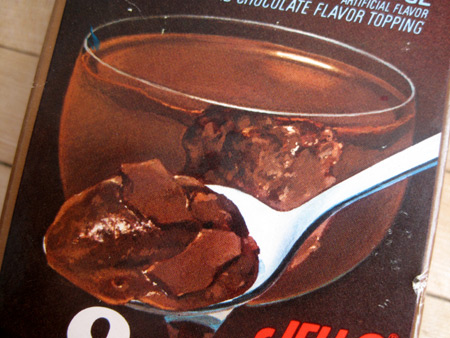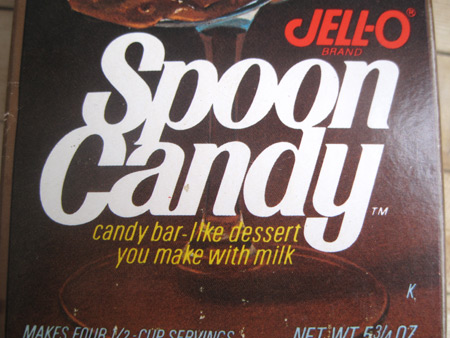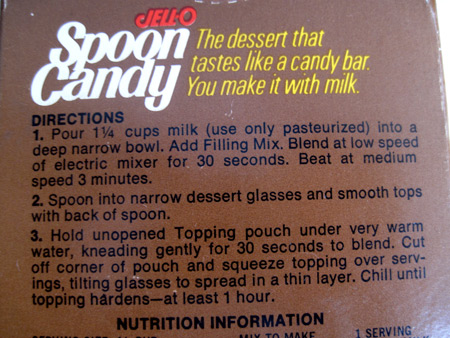 Categories:
Food
,
Kitsch
,
Kitsch O' The Day
Tags: Allee Willis, Jell-o Spoon Candy, jello spoon candy, Kitsch, Kitsch O' The Day
| | | |
| --- | --- | --- |
| Share this page. | | Subscribe to the blog. |
| | | |
Protected under a Creative Commons license