Allee Willis' Kitsch O' The Day – Pigmy Will in "Along Came Whiska"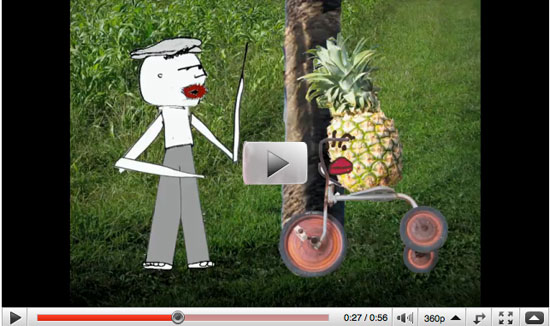 Pigmy Will and Feathers – created, written, art directed and "acted" by me and Prudence Fenton, animation and special effects director for Pee-Wee's Playhouse and all around the animated visual genius – have added a new friend to their neighborhood. Whiska, a pineapple who sees the world through polar opposite eyes than Pigmy or Feathers and who tricycles into town in this introductory episode (if I can be so generous and label something an episode that consists of a few seconds of poorly drawn and animated nonsense).
Pigmy Will is a prince of Kitsch and exemplifies what I love most about the genre, an eternally positive and happy outlook on life, choosing to forge ahead on one's own individual path despite what anyone else may think about it.
Other Pigmy Will faves:
"Pie Day"
"La Bamba"
Categories:
Food
,
Kitsch
,
Kitsch O' The Day
,
Pigmy Will
,
Transportation
,
video
Tags: Allee Willis, Kitsch, Kitsch O' The Day, Pigmy Will, Whiska
| | | |
| --- | --- | --- |
| Share this page. | | Subscribe to the blog. |
| | | |
Protected under a Creative Commons license
One Comment