"Allee Willis' Wonderland O' Kitsch – East San Fernando Valley, CA. Part 2″ VIDEO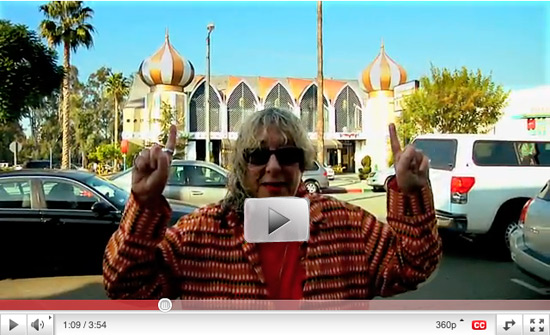 In part 2 I take you on a tour of even more grand and kitschifyingly wonderful monuments of aesthetic in my beloved east San Fernando Valley just outside of Hollywood. This time eye-popping wonders include giant golf balls, plaster families, official city art that says I don't know what about the city, nipping happy faces, Russian onion domes, ancient Italy, unnatural rock, glittery hemp, an airborne 59 Corvette, Amelia Earhart and a misplaced giant Emmy.
If you haven't seen Part 1 with the spewing volcanoes, frog families and shoe cars go here now.
Categories:
Kitsch
,
Kitsch O' The Day
,
Place
,
video
Tags: Allee Willis, East San Fernando Valley kitsch, Kitsch, Kitsch O' The Day, San Fernando Valley kitsch
| | | |
| --- | --- | --- |
| Share this page. | | Subscribe to the blog. |
| | | |
Protected under a Creative Commons license
4 Comments