Allee Willis' Kitsch O' The Day – 1940′s Ship Salt & Pepper Shakers and the Maritime Hotel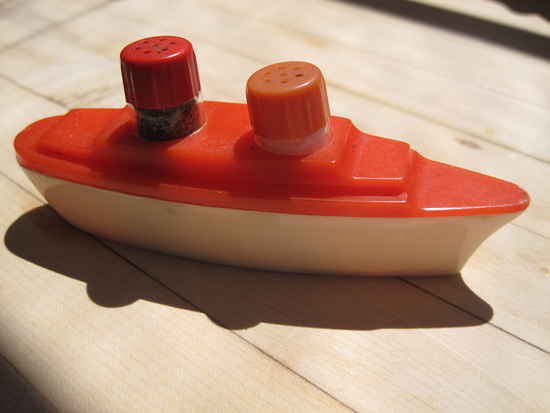 I've never been on a cruise. I've gone sailing twice. I've been in a motor boat maybe 10 times. But make no mistake about it, I love boats. I love the sound of the water lapping up against them when you're in them, I love what they look like. I've always wanted to go on a cruise – between the buffets, lounge acts and seafaring decor what's not to love? But for now, I content myself with ship artifacts like this 1940′s plastic salt 'n pepper shaker.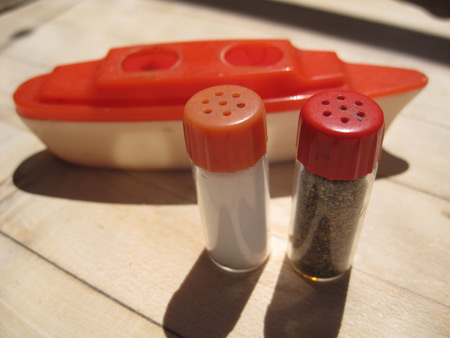 I have a lot of help around my house creating a perfect atmosphere for the ship salt and pepper shakers as it abounds with portholes. These particular ones came off a 1952 Chris-Craft boat.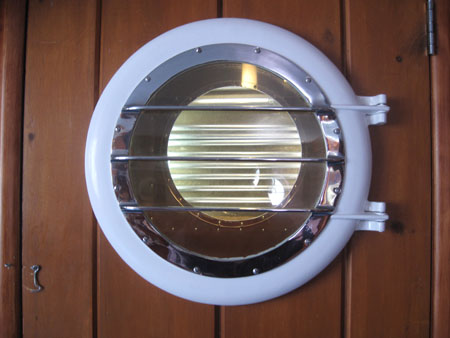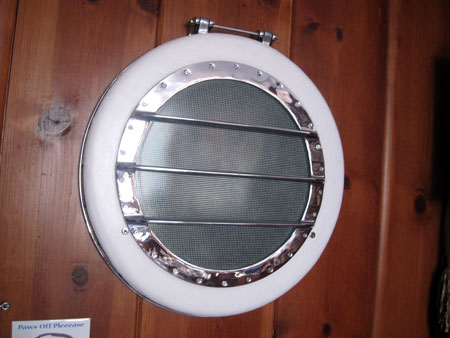 I turned this porthole into a laundry chute.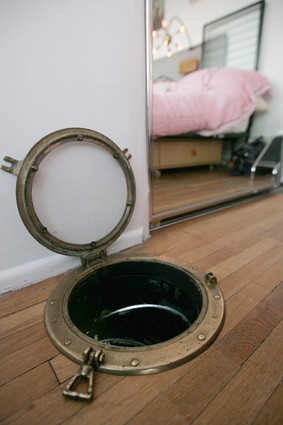 When I had to spend tons of time in New York between 2002 and 2007 during the writing and production of my musical, The Color Purple, I insisted on staying at the Maritime Hotel. This is one of the most gorgeous buildings in the world as far as I'm concerned. Built in 1969 as the National Maritime Union, it's 12 stories of pristine one inch white mosaic tiles with a four foot metal rimmed ship's porthole in every room, of which there are are twelve on each floor.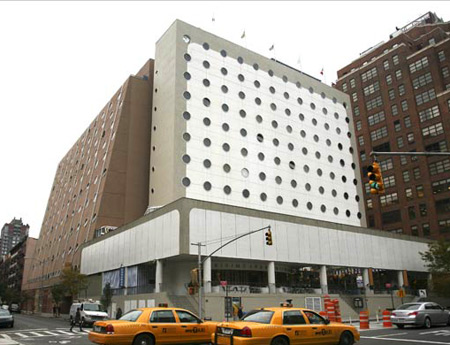 The rooms are decorated like a ship's cabin – dark wood, curves including the ceiling and laid out meticulously other than the contortions one must get into to operate the TV remote from bed. The lobby has stone reliefs of maritime activites and the floor echos the giant portholes in the rooms. But I'm not here to give a hotel tour and I'm not in New York and God knows if I'll ever get my ass on a cruise. But when I look at this little seafaring salt and pepper shaker, its gorgeous red and white perfect 1940′s plastic self, it chills out my brain as if it were riding the waves instead of racing to post this blog.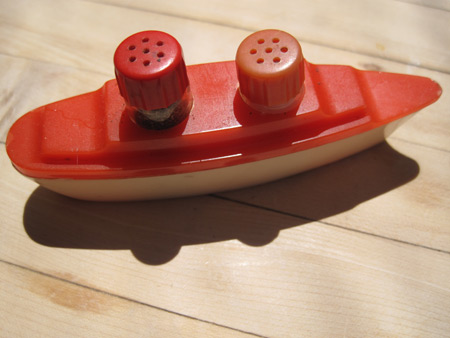 Categories:
Furniture and Housewares
,
Kitchen
,
Kitsch
,
Kitsch O' The Day
,
Place
,
Travel
Tags: Allee Willis, Kitsch, Kitsch O' The Day, Maritime Hotel, portholes, Ship S&P, ship salt pepper shaker
| | | |
| --- | --- | --- |
| Share this page. | | Subscribe to the blog. |
| | | |
Protected under a Creative Commons license
2 Comments