Allee Willis' Kitsch O' The Day – The Statue Of Liberty, Live In Beverly Hills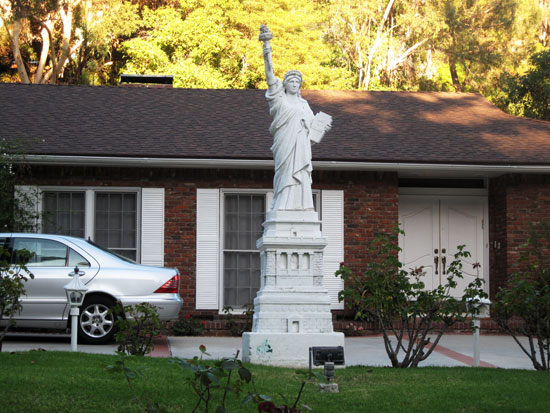 One of my favorite things about living in a climate where it's warm enough for people to keep their front lawns going all year round is the crazy things they stick on top of them. I'm a strong believer in your house, your lawn, your car, your clothes, your hair, your anything being a canvas for self-expression. I'm fascinated enough when people dress up concrete penguins or make picnic areas for plaster frogs and the like. But sticking a giant Statue of Liberty on your front lawn is a statement that only some are bold enough to make. This is one of my favorite things about Beverly Hills.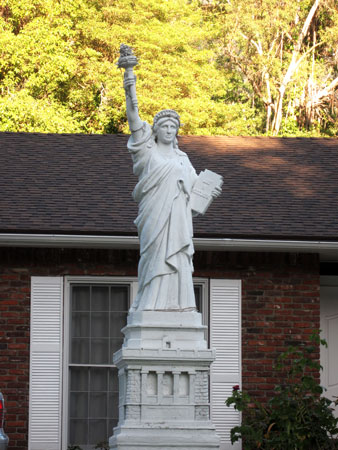 In the New York harbor Lady Liberty welcomes all who pass her with "Give me your tired, your poor/ your huddled masses yearning to breathe free". But west coast Lady Liberty only welcomes the masses huddled in their cars crawling over Coldwater Canyon, especially in rush hour when most of them are tired, poorer than they used to be, but can at least be thankful they're not nose to nose on a freeway and are free to look at something this ridiculous on their long trek home.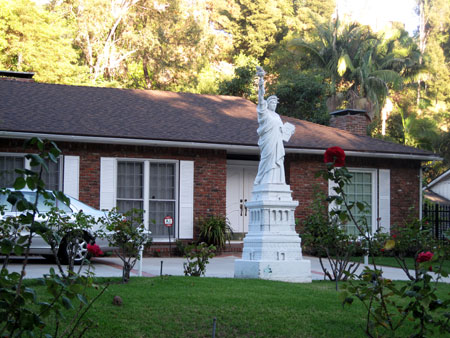 Categories:
Architecture
,
Kitsch
,
Kitsch O' The Day
,
Los Angeles
,
Sculpture
,
Travel souvenir
Tags: Allee Willis, Kitsch, Kitsch O' The Day, Statue Of Liberty, Statue Of Liberty Beverly Hills
| | | |
| --- | --- | --- |
| Share this page. | | Subscribe to the blog. |
| | | |
Protected under a Creative Commons license