Merry holidays and a happy 2016 to all Detroiters and supporters of "The D"/Allee Willis Loves Detroit!
Two years into it, the record and video of "The D" are just about finished and look and sound fantastic. I think you'll appreciate the enormous amount of time put into it once you see it as it sure doesn't resemble any other song any other city has made! I'd love to put it out right now but the release needs to be coordinated closer to the release of the accompanying film, which we are still avidly editing away on, We lost a few months of valuable time but for very good reason: The musical I co-wrote, The Color Purple, opened again on Broadway and is a MASSIVE GIGANTIC HIT with outrageously RAVE reviews!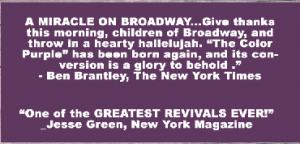 Although I didn't like losing time on "The D"/Allee Willis Loves Detroit, the success of the musical can only help and eventually promote it as The Color Purple is the ultimate story of survival and pushing through whatever obstacles may befall you. The story not only runs parallel to the last few decades' trajectory of Detroit but to my own life and career. And as my journey with The Color Purple runs through our film it's been a great few months for both me and the fate of the Detroit project.
The crew and I are now back in LA fervently plowing through footage of sing-alongs and such in efforts to speed our Detroit puppy along. In the meantime, here's a small sample of The Color Purple featuring Jennifer Hudson who magnificently plays Shug Avery. So slug back some eggnog, enjoy, and I will be back with much more Detroit as we continue our lonnng drive to the Motor City.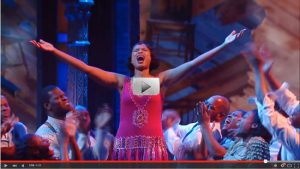 Yours in The D,
Allee