Yeah I know… it's been quite a long time since I wrote an update for this colossal, massive, seemingly never-ending Detroit project of mine, "The D". But it's not for lack of working on it! It's just that after almost five years of attending to it daily my brain was more split up than a pie chart and I decided to just focus on finishing the project, as opposed to writing, tweeting, and otherwise losing my mind from the constant pressure of posting about it. I thought my disappearance into the vacuum of work would last a few months but alas, here we are a year and a half later….
The good news is "The D" IS DONE (!!!). Other than the party to premier it, which takes place Thursday night, September 28, at the historic Detroit Institute of Arts in, obviously, Detroit.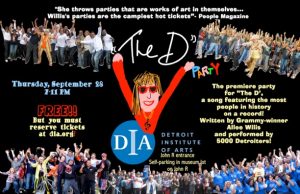 But anyone who knows me knows that I take party-throwing as seriously if not more than almost any other thing I do. So the planning and prep for this extravaganza has been and remains as intensive as recording and mixing the over 5000 tracks of vocals and instruments for "The D" record -featuring more people in history than have ever been on a record before! – and filming, viewing, editing and animating the thousands of hours of footage to make the matching song-length micro-documentary. So for at least the past four months I've been swathed in a swirl of paint, glitter, and excess brain matter planning this most illustrious event that includes the world premiere of "The D", Boogaloo Wonderland sandwiches (legendary in the neighborhood I grew up in and partially named after my song "Boogie Wonderland"), sing-alongs to more of my hits like "September," and "I'll Be There for You (the Friends theme)", special performances and tributes, and a real-time collaboration with thousands of Detroiters building a 50 foot long "We Are The D" art wall. Normally a place of quiet and elegant contemplation, the DIA will be anything but the night of "September" 28th! And tickets are FREE and you should reserve one here now!
Last thing I want to mention is that my long-time collaborator and friend, Narada Michael Walden, responsible for six out of seven of Whitney Houston's #1's, Mariah Carey, Aretha Franklin, and soooooo many more, just added his touch to our already if-I-do-say-so-myself fantastic mix of the record as well as a special radio mix, so I'm even more excited about this whole thing which sounds different than anything you've ever heard, SWEAR TO GOD!
So Detroiters, reserve your tickets now. Non-Detroiters but who just might happen to be in the Motor City the night of "September" 28, you can grab them too. And I can't wait for everyone else to finally hear and see "The D" the day after the premiere, September 28, once it has been unrolled before the eyeballs of the citizens of the city that inspired and made it.
Yours firmly in The D!
Allee
For more complete info on "The D" go here: www.wesingthed.com
For PARTY TICKETS go here: www.dia.org/theD
Who's Allee? Go here: www.alleewillis.com