Hard to believe that after working on "The D" a solid year and a half, my ever-growing crew of 15 and I are descending upon Detroit in less than a week to record the song, video and feature length documentary. We'll be recording and filming groups of 50 to 1000 people at each of 40+ locations where people will be singing "The D", dancing, and showing their Motor City spirit however they can. Nothing like this has ever seen attempted- not just the largest number of people ever on a record, but the largest number of people as the original artist on a record. A partial list of locations participating is at the end of this email.
Over the past couple of weeks I've been recording incredible Detroit born singers, songwriters, musicians, comedians, and actors here at my studio in LA – groundbreaking Motown songwriters and producers like Lamont Dozier and Mickey Stevenson, former Supremes Mary Wilson and Scherrie Payne, singers Freda Payne, Marcella Detroit, Pam and Joyce Vincent, Diane Steinberg, daughter of legendary Detroit DJ Martha Jean The Queen, comedians Lily Tomlin and Angela Shelton, and musicians like Greg Phillinganes, Ray Parker Jr., Reggie McBride and Bruce Miller – with a lot more to come. Here's some of the action in my studio over the past week:
Mary Wilson: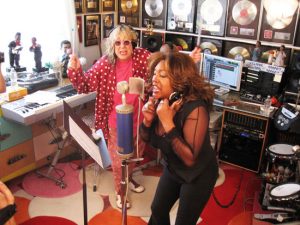 Lamont Dozier: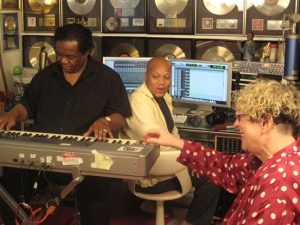 Lily Tomlin: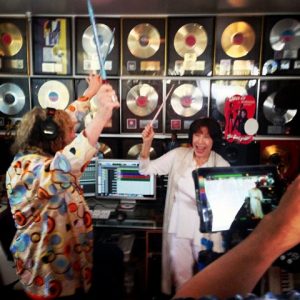 Massive thanks again to all of you who donated moolah to make this truly historic song, video, documentary and collaboration with the people of Detroit possible. As the scale of this project involves tens of thousands of people and a 20 day/ 40+ location shoot, not to mention postproduction and all else involved in finishing the project we are still actively seeking funding. I've started another online fundraising campaign at http://www.gofundme.com/3btivk. I haven't made a big deal about this one. It's just there for generous souls who want to be part of something truly inspirational. We are also seeking larger donor sponsors and/or angels. You can email me back with any inquiries about that.
Thanks to the following locations where we'll be filming and recording "The D". Two of the sing-alongs at The Heidelberg Project, Friday, September 13th 10:30am and Saturday, September 21st at 3pm are, open to the public. A schedule will soon be published at http://www.alleewillis.com/WeSingTheD/.
The Detroit Historical Society and Museum
The Dossin Maritime Museum on Belle isle
Detroit Yacht Club
D-Hive
Mumford High School
Pasteur Elementary School
Schulze Elementary School
Martin Luther King High School and marching band
Wayne State University
College For Creative Studies
Eastern Market
Temple Israel
Academy of Rock
Rock Ventures/ Opportunity Detroit
Radio One
The Heidelberg Project
Mosaic Youth Theatre
The Whitney
The Fisher Building
Greg's Soul In The Wall restaurant
Consumer Auto Parts
American Jewelry & Loan (Hard Core Pawn)
U Detroit/ Harmonie Park
Henry The Hatter
Lafayette Laundry
African Bead Museum
Lululemon at Eastern Market – largest yoga class ever in Detroit – 500 people
Michigan Opera Theatre
The Ford Piquette Ave. Plant
Campus Martius Park
The Alley project (TAP)
Detroit Synergy – biking event
Historic St. James Baptist Church
The Greening Of Detroit
Detroit Dog Rescue/ HUSH
Church of the Messiah
Deep River Y Choir/ Comerica Park
Russell Industrial Center
Ebenezer Baptist Church
Michigan State University Community Music School
Woodbridge Housing Complex
Now just about all that's left is to board the plane to Detroit!!
Onward!
Allee