Allee Willis' Kitsch O' The Day – Geraldine & Ricky "Trees Talk Too!" LP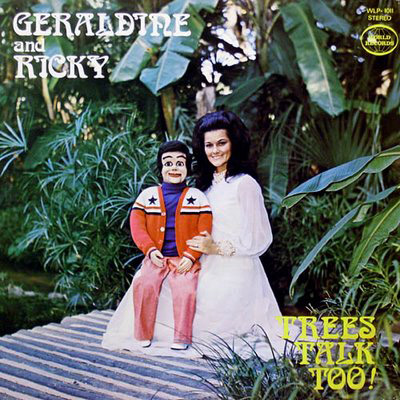 Long before I co-wrote the musical The Color Purple, in which trees are a powerful symbol, I believed these lumber providers were among nature's most powerful species. But I never knew they could talk. Geraldine Murray, who claims God delivered her the gift of ventriloquism while she was asleep at age 14, apparently felt differently. Her wooden friend, Ricky's, voice could make your ears bleed, perhaps causing the tree, well actually shrubs, they're sitting in front of to creak loud enough for Geraldine to interpret it as speaking.
Geraldine & Ricky cut a few albums on the World Records Of Nashville label in the 1960′s. Though all that survives in my collection are the covers – vinyl cracks a lot easier than wood – they are among the Kentucky Derby champions in the Christian Kitsch LP race.
Geraldine and more wood: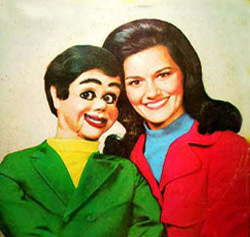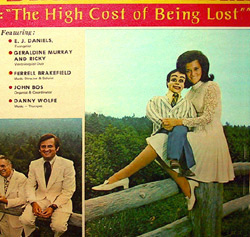 Categories:
Cheesy LPs
,
Kitsch
,
Kitsch O' The Day
,
LPs
,
Music
,
Nature
,
Religion
Tags: Allee Willis, Kitsch, Kitsch O' The Day, Worst album cover
| | | |
| --- | --- | --- |
| Share this page. | | Subscribe to the blog. |
| | | |
Protected under a Creative Commons license
6 Comments