Allee Willis' Kitsch O' The Day – Garlic Salt Shaker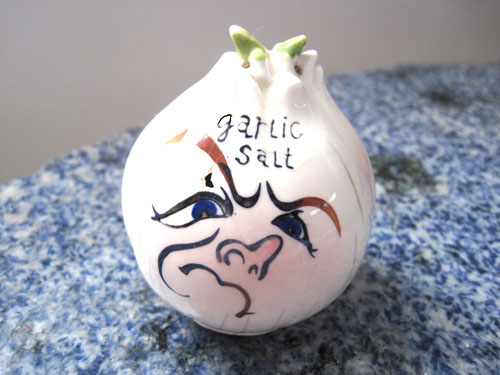 Garlic is about my favorite thing in the world. I drive up to Monterey a lot on the 101 and always pass 20-wheelers filled with the stuff coming from Gilroy, the Garlic Capital of the world. I match the speed of the truck for about 10 miles to luxuriate in fabulous garlic fumes…
This vintage 1950′s shaker, clearly distressed at the smell of what's inside it, is NOT the look on my face but, rather, the plethora of friends around me who hate the stuff.
Did you know that garlic is a species of onion?
Garlic salt shakers were very popular in the 50′s, 60′s and 70′s. They usually came with a companion onion salt shaker.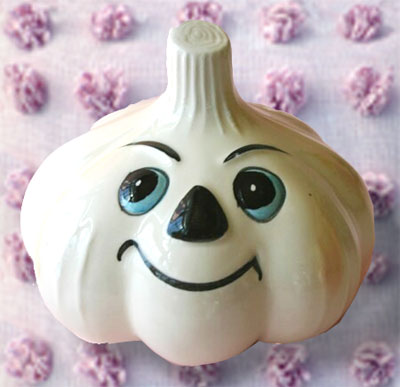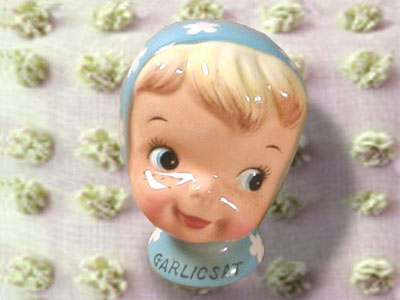 Categories:
Accessories
,
Food
,
Furniture and Housewares
,
Kitsch
,
Kitsch O' The Day
,
Products
Tags: Allee Willis, garlic salt shaker, Kitsch, Kitsch O' The Day
| | | |
| --- | --- | --- |
| Share this page. | | Subscribe to the blog. |
| | | |
Protected under a Creative Commons license
4 Comments