"The D" is done!! Hard to believe, but following a thrilling, harrowing, joyous, traumatic + every other polar opposite emotional experience one could stuff into a human existence, my everyday-for-5-years passion project for my hometown featuring 5000 lead singers and musicians, more people than have ever been on a record before, finally premiered in the Motor City at the historic Detroit Institute of Arts on September (of course SEPTEMBER) 28, 2017. The outpouring of love, appreciation, and pure Detroit spirit was palpable to every one of the 3000 folks who jammed in to meet and play with the new baby.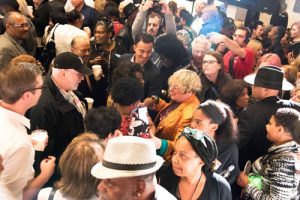 There's links to every place "The D" is available online at the end of this email. But if you want to see/hear this sonic extravaganza now to put the rest of this treatise in context, you can divert here. BUT only if you promise to return to read about one of the most fantastically funky, fun-filled nights Detroit or I have ever had. Seriously.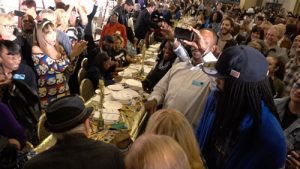 Guests, a true cultural potpourri of the real Detroit, started the evening off watching "The D" in the Detroit Film Theatre. Finally being able to present something I had promised over five years ago as a theme song to accompany the city's reinvention – at the time of recording very few signs that any such sunny fate could befall Detroit were in evidence – was about the most personally gratifying artistic moment I've ever had.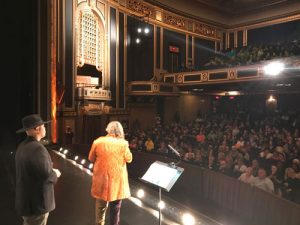 Guests then followed tasteful tableaus I made in collaboration with Bubbles the artist, my alter-ego who I manage, leading them to the the main party rooms. Apologies to Renoir, Monet, Calder, Rembrandt, et al. who had to put up with this for the night.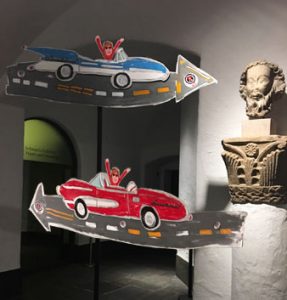 And special thanks to Andrae Alexander and Narada Michael Walden for helping to make "The D" sonically worthy of all this attention!)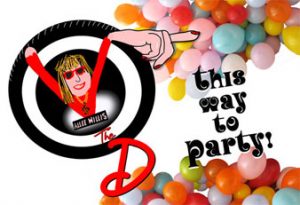 Although people were scattered over half of the ground floor of the DIA, the fifth largest museum in the world, the heart of the party was in massive Great Hall and Rivera Court, the latter of which is completely swathed in Detroit Industry Murals painted by Diego Rivera between 1932 and 1933. It's a staggering gallery. And an even better party room.
The sophisticated centerpieces, tastefully mounted on cans of Detroit's favorite pop, Vernors, matched Diego's color scheme well.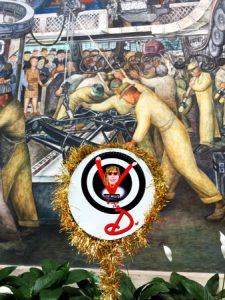 Also matching the colorful Rivera Court walls were several swamps of one of the evening's featured sustenance. By the end of the night not a single piece was left.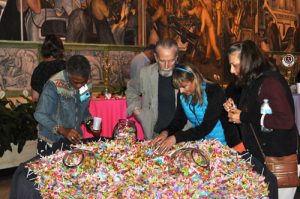 I believe the secret of throwing a great party is creating an atmosphere so kitsch, silly, and soulfully filled that people naturally strip themselves of their inhibitions and function at maximum friendly. The trick to this is creating an activity, that although actually very deep, feels almost silly and childlike.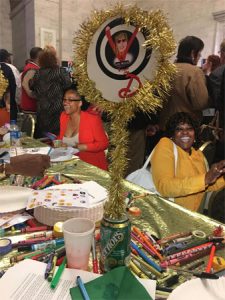 In this case it was the interactive, mass-collaborative "I AM The D" paper plate portrait wall, a monster 50 x 15 foot installation drawn and erected in real time, one stop shopping that, in its simplicity, revealed a ton about the true sprit and character of Detroit.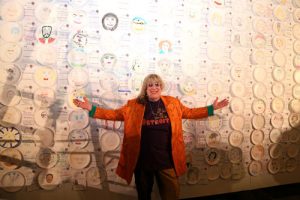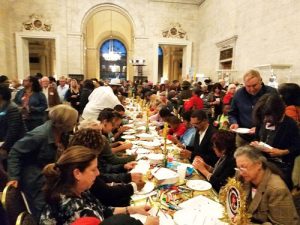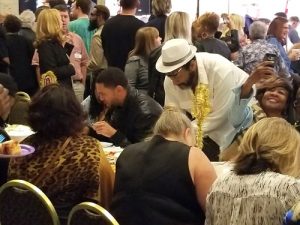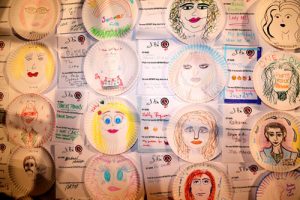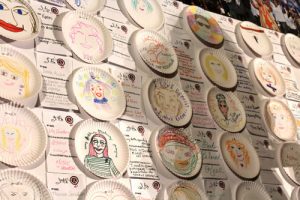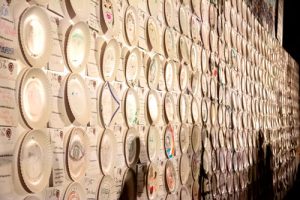 Then there were the sing-alongs, a staple of my performance style ever since I realized the audience knew my songs better than I did. This started with the compulsory singing of "September", the song that was my initial inspiration for writing "The D". I wanted to show that despite it's all-too publicized problems, Detroit was actually an incredibly spiritual and joyous place to live. I know that if you played "September" at a funeral even the corpse's toes would be tapping. So, to get things going we hit the ba-de-ya song first. Detroiters, next to the folks who gave me a career in the first place, the mighty Earth, Wind & Fire, you sing it best!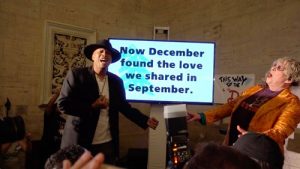 Were it not for growing up in Detroit at the very moment Motown rose from the asphalt to make the whole world dance, I probably never would have become a songwriter. Though to this day I've never learned to play or read music, melodies and lyrics leap outta my head like grasshoppers. Were it not for sneaking out to Motown so I could plant my teenage self on the front lawn I would have never heard those bass lines and drum patterns leaking outta the walls. The black radio stations were my babysitter. God knows what I would be doing now had I not had such good childcare. 

Which brings me to Paul Riser, a gem of a human being, one of the last surviving Funk Bros. who arranged these gems – "My Girl", "I Heard It Though The Grapevine" (both versions), "Papa Was A Rolling Stone", Tears Of A Clown, and SO many more. So as I'm wont to do when I do anything in the Motor City, we also sang-along to Paul's hits.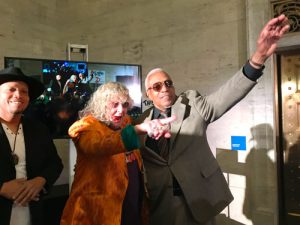 Not to be Motowningly outdone, this moment from the tail end of the party – singing "Heatwave" to the record with Martha Reeves – was beyond anything my teenage Motown-soaked brain could have ever fathomed.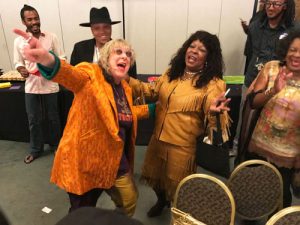 I'm not playing favorites here but Martha's paper plate portrait earned her many extra points with this party hostess!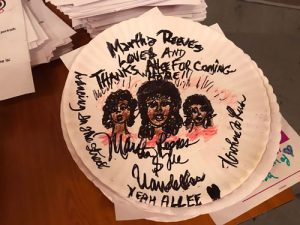 And, of course, Mosaic Youth Theater of Detroit, who I've worked so closely with since 2011 and, in celebration of their 25th anniversary, $.25 of every copy of " The D" sold goes to, regaled the crowd with some Willis Wonderland hits. I had eaten enough candy by that point to convince my sugarcoated throat it wanted to join them for "Neutron Dance".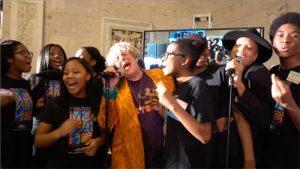 And of course, shooting even more sugar and meaty goodness into the premiere, Chef Greg and his signature Boogaloo Wonderlands, the sandwich made famous in the neighborhood I grew up in and later partially renamed for my song "Boogie Wonderland", were present. Although there were signature D cocktails offered at the bar, Chef Greg's happy-spiked (non alcoholic) red Kool-Aid, served outta milk jugs to insure the authentic Detroit Kool-Aid thang, were the most popular.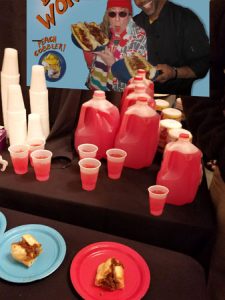 o, I will now draw to a close. I'm overwhelmed sorting through thousands of photos and tens of hours of video but hope to have much of it all online within a coupla weeks. (BTW, if you're reading this and were there and are holding some great shots, please shoot them back to me now. I like being overwhelmed.) Though as tired as I am, I'm obviously not as tired as I was when I designed the CD cover, spelling my beloved Detroit completely wrong: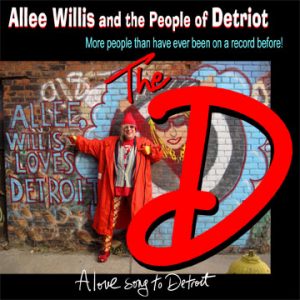 So now, please please, pleeeeease show suport and help me spread the link/s to 
"The D"
 around. Yes, it would make me exquisitely happy to see millions of views on a project I worked so hard on. But more than anything, I want the world to see/hear what a happy and alive city Detroit is. It's wonderful that people now acknowledge that we are on our way back. But for all the buildings and stadiums – all very important to the perception of a "new Detroit" – make no mistake that what keeps us ticking is the soul and spirit of the people who live there.
Here are the all important links. Please click!
YouTube: 
https://youtu.be/EK3alPCC6jI
iTunes, Google Play, Apple Music, Amazon Music: 
http://smarturl.it/alleelovesdetroit
Yours deep in the D,

Allee
http://www.AlleeWillis.com
The D! https://youtu.be/EK3alPCC6jI